Roofing Installation & Services in Bergen County NJ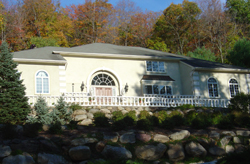 A home is among the biggest investments you'll ever make. So when you choose someone to install or repair the biggest protector of that investment—a roof—extreme care is advised.
At Ridgeview Roofing Company, LLC we strive for perfection so that you can be satisfied every time. We operate on the principle that the quality of who we are and how we work with you are equal in importance to the caliber of what we create.
Integrity is the core of every action we take to help achieve an owner's objective. We've built a successful company that helps people stay in their neighborhood. Our goal is to do the best job for our customers, give them quality and serve at a competitive price to keep calling us!
Ridgeview Roofing Company is an established professional roofing contractor in Bergen County, NJ. This allows us to be minimally disruptive, timely, and still achieve the quality that you expect.
We provide roofing services and installation in Bergen County NJ. Call us today to speak with our roofing contractor and experience the best in roofing and gutter services. You'll be glad you did!