Roofing and Gutter Services in Bergen County NJ

Roofing in Bergen County NJ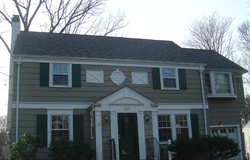 Roofing Repairs and Emergencies
In the event that your roof needs servicing, you have peace of mind knowing we're only a phone call away and that we offer emergency service and free estimates.
New Roofing Construction or Installation

We can build or install any type of roof required in your home. We use high-efficiency materials designed to be the most long-lasting and cost-efficient on the market.
We do not perform assembly-line roof installations in Bergen County NJ. Each project we take on is properly treated as a custom roofing assignment, installed with skill and great attention to detail. A lot can go wrong if a roof is not properly installed by an experienced roofing contractor. Our commitment to you is to build total reliability into your roofing system.
Whether you own a home or residential building, or whether you need roofing service or installation in Bergen County NJ, our goal is to provide you with the very best roofing service available today.
Read what our clients have to say about us!